A. Introduction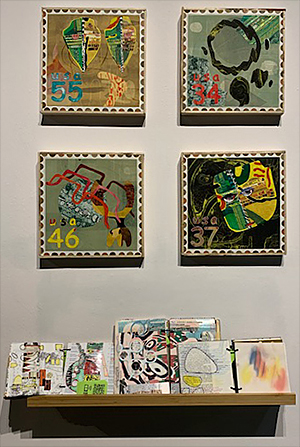 I thought I was going to get completely finished with this online companion to my art journals by the time of the Back To Our Roots show opening on February 21, 2020, but I was surprised by how much I had to say and how much it exhausted me to confront some of the topics I wanted to write about. I had to allow some time to recharge in between sections to deal with the emotions, both good and bad, that were conjured up in the process. Since art journals are always in progress, in that spirit I will finish the online and analog pages as I am able. In the pictures of the art journals at the top of each page are pieces of tissue paper that represent clear pages I want to make with QR codes on them. Each clear page will have a letter on it corresponding to a web page on this web site.
In the year 1998, I was getting ready for my first ever solo show.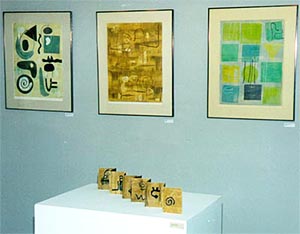 I had several artists books in the show, an art form I've been fond of ever since I first learned about it. At the time I was doing a lot of rubber stamp carving too. I began making square panels of recycled mat board and collaging and rubber stamping on top of them with plans of making a book arts piece out of them. Years later I scanned them to manipulate them with computer graphics software and I used them to make the header and border images you see on these pages. I used four of them to make covers for the two square art journals that were in the Back To Our Roots show, and I made the rest of the panels into small storage cubes.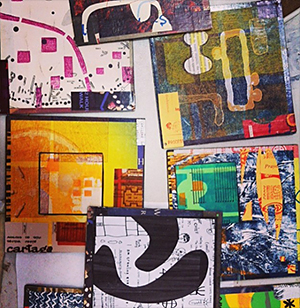 As an example of how much times have changed, I went on a trip to Seattle in the summer of 1998, a few months before my show was to open. The plane ride to Seattle was four hours each way. To date that is still the longest plane ride I've ever been on, I'm used to long road trips but not long plane trips. Because I was working on my show and was conscious of needing something to do on the plane to keep my mind off my restless legs (I get fidgety after about and hour and a half), I brought the collaged square panels with me, wrapped in foil so the pages wouldn't stick together - they had matte medium on them. This foil wrapped packet drew a weird look from the person running the metal detector. Some of the panels even had pictures of circuit boards on them! But that's all that happened, whatever the security person thought of my packet it was deemed not a threat! On the plane, I got out my tracing paper, pencils, lino cutter, rubber material and X-Acto knife to work on stamp carvings. The flight attendant gave me a long glance to see what I was doing then went about her businesses. I would not try either of these things now but I thought nothing of it then and no one over-reacted. I had a good time on the flight (and the trip) and carved lots of stamps!
I didn't get these panels made into books in time for the 1998 show or the two-person show I had in 2000. Every time I'm in a show I have more ideas than I can realistically get done so I just get as many done as I can and save the unfinished ideas for later. I've been known to finish a project decades after I started it or got the idea for it. You never know what will happen!
Things to be grateful for:
Starting school again has been waking up my mind in a way it hasn't been in a long time.
This mental stimulation is helping me have the courage to look at old artwork I haven't looked at in 20 years.
Looking at my late friend Mark's old artwork and confronting the grief over losing him and the other people I lost since I made that old artwork has been tough but I've also gained back some parts of myself that were buried for a long time.
What's next?
The Back To Our Roots show opening was wonderful. The weekend after the opening, the gallery was broken into and some items were stolen and vandalized. The show was repaired and re-opened only to have to close early because of the COVID-19 pandemic. Making art is sometimes a bit of a struggle, and this show perhaps had more adversity to overcome than most. Whether it is a fight to make and exhibit work, or fun and a great joy, art is a great vehicle for healing. Because I can't teach in person during the COVID-19 pandemic social isolation period, my husband and I have started hosting Virtual Art Parties online. Below are replays of the first two sessions.
Virtual Art Party #1: Art Journaling
Helpful links for Virtual Art Party #1: Art Journaling
Virtual Art Party #2: Mini Accordion Books
Helpful links for Virtual Art Party #2: Mini Accordion Books
I've been wanting to try some projects from The Expressive Arts Activity Book: A Resource for Professionals by Suzanne Darley and Wende Heath for quite some time. I have decided to link up one activity from the book to one of the art journal pages I'm describing on this web site and use that as an inspiration for a Virtual Art Party. I used the project on page 91, "Book two: Accordion Book" to suggest the theme for Virtual Art Party #2.