J. The 'zines at Webster University in the art building
I started working on a Master's Degree in Advertising and Marketing Communications in the fall of 2019. In my first class, Mass Communication, I read in my textbook about how marginalized groups in the world of mass communication often are relegated to lower-tech forms of communication such as handbills and 'zines to communicate.
While I was in that class, I went to a Gauguin show at the St. Louis Art Museum and learned that among other things, Gauguin was his era's version of a 'zine publisher. Here is my article on my blog about that museum visit.
Gauguin was a zine publisher! Who knew?
Both the class I was in and the museum visit got me thinking about the 'zine I used to publish from 1991-1998 called the Lime Green News. I learned about the 'zine scene from friends at school when I was working on my AA and BFA degrees in the late 80s and early 90s. I ended up starting my own 'zine following their example and while my 'zine was in paper production I got as many of my friends and family involved as possible. My late friend Mark that I'm paying tribute to in this show sent me lots of material over the years for my 'zine or just to trade, discuss and collaborate with. We were both very inspired by what was then still sometimes called "primitive" art, as was Gauguin obviously.
Thinking about art, 'zines, and Mark as a result of seeing that show prompted me to get a lot of old art work out of storage that had been put away for many years. I had been afraid to look at it for many reasons. One reason was that Mark, my late friend June and my late Mom were at the top of the list of people in my life who would participate in art and craft activities with me, contribute to my 'zine, encourage me in my art and other creative work and give me unconditional love and acceptance. Now that they were all gone, could I stand to look at these materials again? There were so many reminders.
As a way of "ripping off the band-aid", I also got out Mark's art work and art materials that his family had given me. I had not been able to look at them for nearly a year. Seeing everything together was very exhausting mentally because of the grief, but it was also exciting because I felt creative juices flowing. I made this computer graphic as a tribute to Mark. For the four wall pieces on view in the "Back To Our Roots" show, this image was the inspiration. It's based on some faux postage design collaborations Mark and I worked on in the late 1990s. I wanted to keep exploring the use of the mask images because something about them keeps drawing me in. I think it is the look of vulnerability and innocence on some of the facial expressions.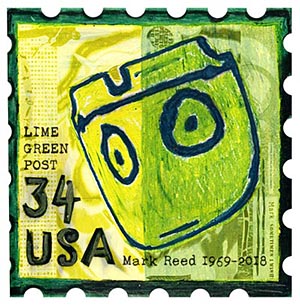 My husband works at Webster University, and sometimes we go for walks together on campus after his day is over. On one of our walks we walked through the art building because I wanted to see what the art department was up to and if there were any activities that students from any major could participate in. I saw this rack for 'zine trading and got exited. How do younger people see 'zines in 2019? What kind of content do they like to publish these days?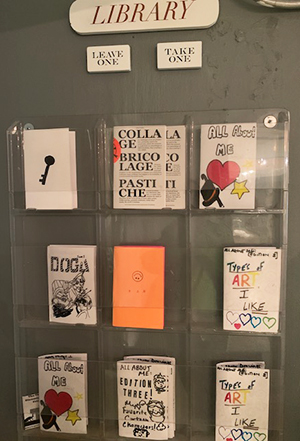 To find out the answers to those questions, I started taking some 'zines from this rack and swapping a few copies of my old 'zines, or mini books that I made or "mashups" (altered books) made out of parts of 'zines that I took from here. I scanned some selections of altered pages before I put them back on the rack to remember what I did because I don't know if I'll ever encounter them again!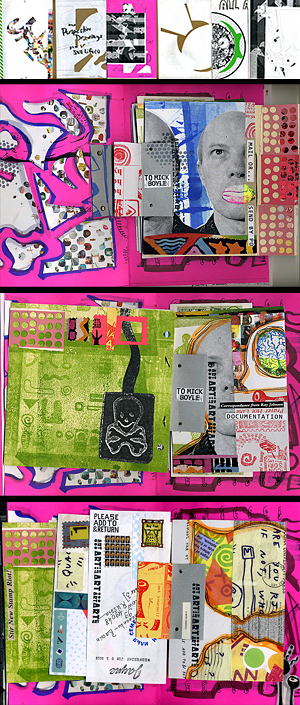 If you would like to see some larger images of this old and new work, I have photo albums on the
International Union of Mail Artists
web site.
Things to be grateful for:
It appears that 'zines are not only still around, but are undergoing a revival.
I not only survived looking at all this old material, I started to thrive as I built on some of my old ideas and developed new ones. Even though the memories will always be bittersweet, I'm trying to appreciate the sweet parts without dwelling too much on the bitter.